Modulus Project Dashboard Tour
Modulus is a premier Node.js hosting platform that provides a complete technology stack for application developers. Every Modulus project has access to a dashboard filled with valuable information.
Home
The project dashboard's home is the first page seen when viewing project details. The home page provides a high-level overview of the current state of a project.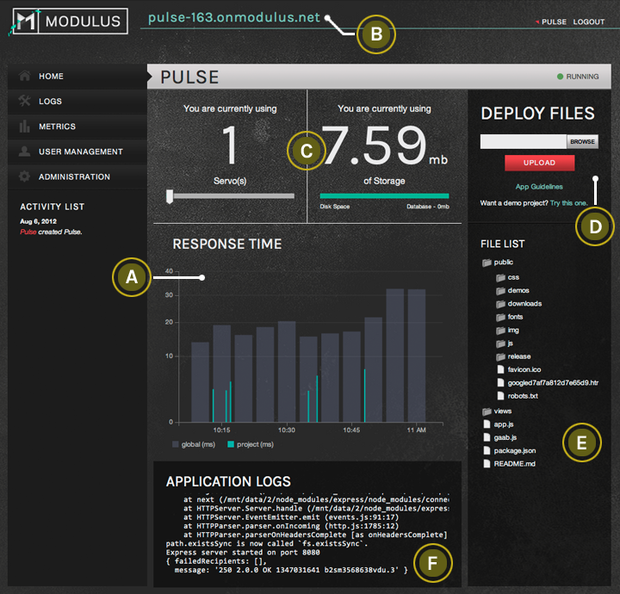 A. Response Times
The response time graph shows your project's response times compared to the global. If your response times get too high it could indicate a performance bottleneck or the need to add more servos. The Metrics page shows more detailed information and breakdowns per route.
B. Project URL
Every project gets a unique URL generated. Custom domains can be specified through the Administration page.
C. Resource Usage
The number of servos and the storage space consumed are the two primary factors in the Modulus billing system. The number of servos allocated to a project can be adjusted by moving the slider. Storage space is split between disk and database. The green indicator beneath the number represents how much one is used compared to the other.
D. Deployment
New versions of your application can be deployed through the web interface by uploading a zip containing the source code. There are a few guidelines that should be followed to ensure the application deploys smoothly.
E. File List
The file list allows you see what files and folders have been deployed.
F. Application Logs
Anything logged by your application will be displayed here. The Logs page provides a much larger and more detailed view into your logs.
Logs
The log page displays anything logged to the console by your application. It also displays items logged by NPM during deployment.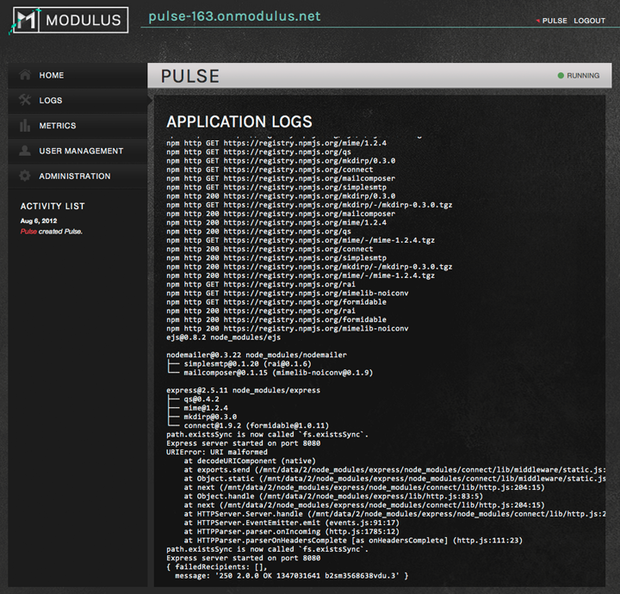 Metrics
The metrics page provides visualizations for the statistics tracked for your application.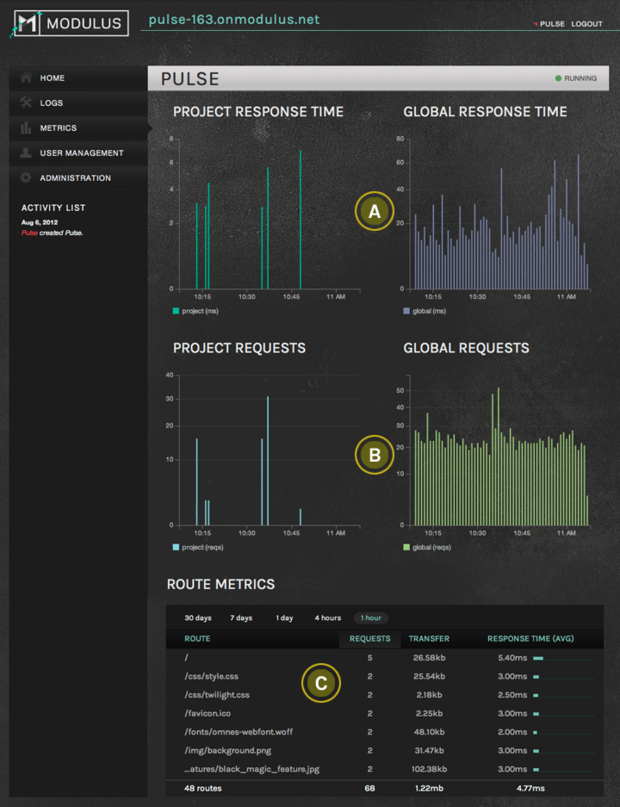 A. Response Times
The response times track how long it took your application to generate a response. The client's computer and bandwidth do not impact these metrics, so you can be assured these portray an accurate representation of your application's performance.
B. Requests
These graphs display the total number of HTTP requests hitting your server over time.
C. Route Metrics
Route metrics breakdown all requests hitting your server by route and resource. You can see every request made to your server, how many times it was requested, how much bandwidth it has consumed, and its response time. Route metrics allows you to spot problem areas in your application by viewing which routes may be taking the longest to respond.
Administration
The administration page holds tasks that don't fit anywhere else. These items will typically be done once for the lifetime of a project.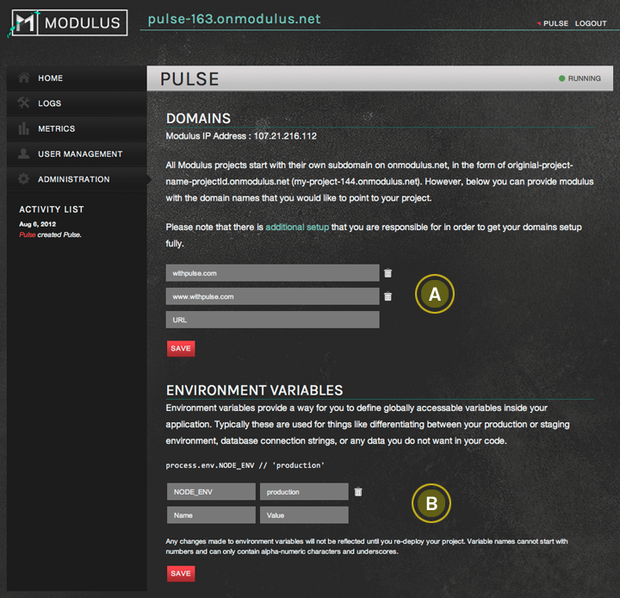 Most web applications need a custom domain. After setting up the domain with your registrar, enter the names here so we know which project to forward the request to. There is no limit to the number of custom domains a project can have.
B. Environment Variables
Environment variables are useful for passing information into your application that you do not want to include directly in your source code. Environment variables can contain almost any string data you want, and there's no limit to the number of variables you can have.